No matter what career path you find yourself in, there is a reason for your presence. Something in your past that sparked your imagination or curiosity and set you toward your fate. If you are like the hundreds of others that have enrolled in American Beauty School, it's cosmetology. Here are some of the movies that have influenced so many of our students, and ourselves.
Clueless
Whatever. We stand by our girl, Cher, no matter how much she be buggin'. She had the best style of anyone in her school, and used her powers of beauty for good in order to give her friend a much needed make-over; something we are sure every future cosmo has done more than once. Add in her totally awesome computer style guru and she would never be a Monet.
Legally Blonde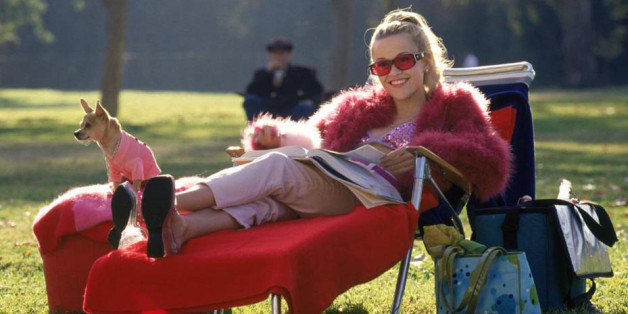 If Cher is the beginning of the cosmetology Rabbit Hole, then Elle is her grown up big sister that will kick you in face-first. Elle not only has style, but an impeccable sense of trend that no one could match. Her determination is inspiring and we know many a student who honed that skill to get them through the last few weeks of cosmetology school. You never know when knowledge of a perm may come in handy.
Queen Latifah: Beauty Shop
If you had something to say, something you couldn't say anywhere else, you said it in the beauty shop. The vinyl chair and chipped porcelain palace was the place that anything spoken was sacred, and being the best, confident, you was praised. The Beauty Shop was a sacred space that you wanted to be a part of, that you wanted to participate in, to see your clients, and your friends, grow into something amazing.
Grease
Grease is the word. Every single one of these impeccable teenagers was at the height of their fashion, hair perfectly coiffed and greased, nails done to perfection. And the boys! While you may not be ready to give up your hipster clad bearded beauties, they bring the race in close. Besides, just watching Frenchie's self discovery and struggle through her journey in cosmetology school leads so many to begin their own adventure. Don't worry, you probably won't dye your own hair bubble gum pink.
Devil Wears Prada
The movie that taught a generation that how you present yourself matters, and that what's on the inside matters just as much. Down to the perfect haircuts and updos that were paired with matching nail polish and thigh high boots, the characters in this masterpiece present themselves with perfection and confidence that we know many hope to instill in their clients (and maybe their friends).
Steel Magnolias
Life happens in a beauty salon. If you didn't know this simple fact before this movie, we are fairly certain you knew it afterwards. Watching life unfold inside of this quaint home salon is, for many, like looking into your future. It wasn't just a home salon; it was home. It was a place to learn and grow with people on such a deep level that, we believe, this is close to heaven for some. Us included.
Hairspray
Ah, hairspray. A Cosmetologist's best friend and worst enemy. No one did epic hairdos better than they did in the late 60's and it's something that has only grown and perfected since then. Although, we admit, that most cosmetologists won't know how to do a beehive, but there is some sort of victory in that.
Zoolander
Zoolander may be the silly epitome of the industry, but he is also the incredibly smart example of why not to judge a book by it's cover. You many not have known what causes the dry skin around your hairline, or how to perfectly coiff your hair, or what the dangers of a gasoline fight are. But we are pretty sure Zoolander started you on that journey.
The Hunger Games
There is a line in high fashion that should never be crossed, the one with bubble wrap and cat makeup; the one that gets crossed all the time. It is that same line that that the citizens of the Capital cross all the time, and cross it well. Watching those insane hair styles and wild makeup choices may have flared something inside of you, screaming out from your subconscious to try it. To learn how to do it. It did for us.
Did we miss any?
What movies inspired you to pursue your career in Cosmetology?
If you haven't started your journey yet make sure to visit us online and contact us to find out more about our programs!